ALL products related to Best baby swing recommended below on BabySawyer are highly and separately              searched by our team. If you make any purchase from the link given below we may get some commission.
Welcoming a new bundle of joy into your life is an exciting experience, but it also comes with its fair share of challenges. As a new parent, you strive to provide your baby with comfort, security, and a safe space to rest and play. One essential item that can help with all of these is a baby swing. Baby swings offer a gentle and soothing motion that can calm and entertain your little one. In this blog, we will explore the world of baby swings and help you find the best baby swing for your precious one.
Why Should You Consider a Baby Swing? A baby swing can be a lifesaver for parents, providing multiple benefits for both the baby and the caregiver. Firstly, the gentle swinging motion mimics the familiar movements of the womb, helping to soothe and relax your baby. It can also assist in lulling your little one to sleep, giving you some precious moments of respite. Additionally, baby swings often come equipped with entertaining features like mobiles and music, keeping your baby engaged and stimulated.
Factors to Consider When Choosing a Baby Swing: a. Safety: Safety should always be the top priority when selecting a baby swing. Look for features such as a sturdy frame, a secure harness system, and a wide base for stability. Ensure that the swing meets safety standards and has been certified by relevant authorities.
Swing Speed and Motion: Baby swings offer various swing speeds and motions, such as side-to-side or front-to-back. Some babies may prefer a slower, gentler motion, while others may respond better to a faster speed. Consider a swing with adjustable settings to accommodate your baby's preferences.
Comfort and Support: Opt for a baby swing with a well-padded seat that provides ample support for your baby's head, neck, and back. Look for features like adjustable recline positions and removable, machine-washable seat covers for easy cleaning.
Size and Portability: Consider the available space in your home when choosing a baby swing. If you have limited space, a compact or foldable swing might be more suitable. If you plan to move the swing from room to room, prioritize a lightweight and portable
Additional Features: Some baby swings come with extra features like built-in music, nature sounds, toys, and mobiles. These can help entertain your baby and enhance their sensory experience. Consider your baby's preferences and what features might be most beneficial.
Real-World Reviews: To gain a deeper understanding of each baby swing, it's essential to read reviews from real parents who have used them. Look for reviews on reputable websites, parenting forums, or seek recommendations from trusted friends or family members.
Budget Considerations: Baby swings come in a wide price range, so it's important to establish a budget beforehand. While it's tempting to splurge on the latest models, remember that your baby's needs should always come first. Look for a swing that offers a balance between quality, features, and affordability.
Hey are you looking for indoor baby swing and may be you have searched it but did not find the best one as your choice and definitely want to buy one so nothing to more worried about it.
Here we have brought 5 Best Baby Swing for your baby, which are probably the best for you, These Best baby swing have been researched closely and various websites have been used for the help. Then all these baby swing have been selected for you, All these products are highly rated and the customer review of all these products is quite positive as compared to other products.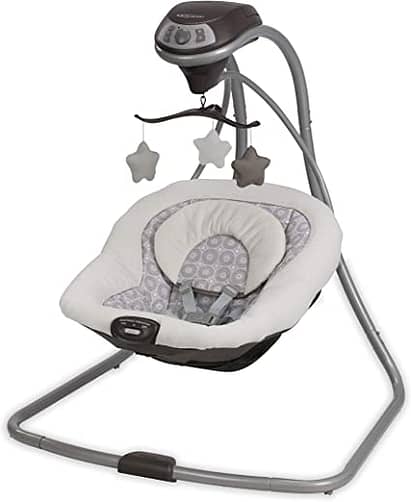 Image-Graco
Product Details-
Brand-Graco
Color-Abbington
Material-Metal
Product weight-17.2 pounds
Product Dimensions-30"L×31"W×38"H

Removable swing seat doubles as a portable rocker with carry handle

3 swinging directions so baby can sway side to side or front to back

6 swinging speeds allow you to find the right setting to calm baby

Roomy seat with body support and recline for baby's comfort

2-speed vibration further comforts your little one

It is gentle have side-to-side swaying motion
Graco best baby swing has 10 classical melodies and 5 soothing sounds
Product Rating-4.6 out of 5 stars and it has almost 17000+ ratings
This is a nice swing for the price, it is very sturdy and nice features such as the music and different swing levels. you'll love this product!! It has been a great way to calm a fidgety baby. This is also best baby swing for big babies The only problem we see is that the mobile isn't designed to turn. If it turned, it would deserve 10 stars.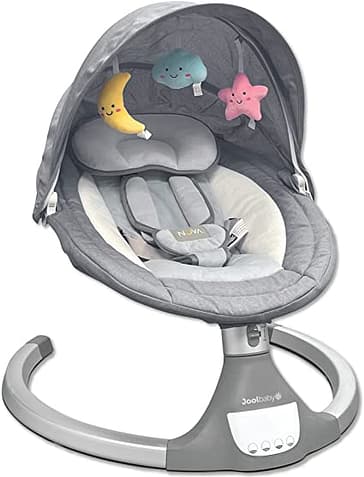 Image-Nova
Product Details-
Brand-Jool Baby Products
Color-Gray
Material-Aluminum
Product weight-10.8 pounds
Product Dimensions-25"L×23"W×20"H
Washable swat cover
IMD touch panel
Bluetooth control
Remote control
Combo with baby protective net for outdoor use
It has 3 hanging stuffed toys included
Easy to use
Rating-4.4 out of 5 stars and it has almost 3700 customers ratings.
This nova best baby swing for infants is an amazing swing for your baby, It has many different features included such as music system, toys hanging stuffed , mosquito net…etc. You can control this baby swing by remote control it has bluetooth connectivity also by which you can play music by your choice from your mobile. It is made specially for baby comfort. if you are looking for such type of products you can go for it.
Note

-In the previous post, we have talked 5 best glass baby bottles If you also want to Buy an attractive baby glass bottles or you are thinking of getting one, please

click here.
Image-Ingenuity
Product Details-
Brand- Ingenuity
Color- Cassidy
Material- Polyster, Metal, Plastic, Fabric
Product weight-8.39 pounds
Maximum weight hold capacity- 20 pound
Product Dimensions-27"L×29"W×35"H
180 degree Rotable
It can swings in 3 direction
Easy to move bacause of it,s light weight
It has 2 position recline you can set it according to you baby comfort
It has music system powerd by USB cord
Having 6 speeds maintains
Rating- 4.5 out of 5 stars almost 2500 cusromers ratings
This best baby swing is an absolute fine product which you want to buy. It can give baby much comfort with that it is adjustable and you can rotate it 180 degree. Very light weight so you can move it easily in your home,balcony,garden. Very soothing vibrations and your baby defnitely will love the vibrations included on this swing and rocler seat. It is powered by USB cord so you can save money on batteries.
Image-Munchkin
Product Details-
Brand- Munchkin
Color- White
Product weight-8.6 pounds
Maximum weight hold capacity- 20 pound
Product Dimensions-23.6"L×23.6"W×15"H
1 Lithium ion Battery required included
Remote control included
Ultra light weight for easy transport
Bluetooth enabled to stream music
Digital touch display on footer site
Rating- 4.5 out of 5 stars almost 2500 customers rated it.
This best baby swing for small space is so compact in size that you can stand it any where, you can hide it under your bed. It has such many functions which is really amazing.This is award winner product in 2021. IT has touchscreen display which is really smart,Intutive and easy to use.This swings is bluetooth enabled so you can play your baby's favourite tunes throuh your mobile phones.
Image-Ingenuity
Brand-Ingenuity
Color- Ray
Material-Metal,Plastic, Fabric
Product weight-16.72 pounds
Maximum weight hold capacity- 20 pound
Product Dimensions-26.2"L×27.3"W×34.2"H
180 degree Rotable
It can swings in 3 direction
Foldable
Very easy to use
Music system included
Easily transportable
Rating-4.2 out of 5 stars
Indoor baby swings by ingenuity is very compact in size and it can easy foldable,easily transportable. It can swings in 3 directions, includes 5 speeds and rotates 180 degree. It has music system with 16 different 16 melodies,2 nature sounds.Have GentleTouch control pad allows you to adjust music & volume without pressing buttons, Music auto shut-off after 20 minutes.
Conclusion: Choosing the best baby swing for your little one can significantly improve their comfort, entertainment, and overall well-being. By considering safety, swing speed, comfort, size, and additional features, you can make an informed decision that meets your baby's needs and your budget. Remember to thoroughly